Project Description
Rockaway On-Beat will offer a formal roller skating program to youth and adults residing in NYCHA developments on the Rockaways peninsula. Participants will be given one-on-one instruction in on-beat roller skating techniques, and a personalized book to reinforce the skills they learn. Skating is a workout like no other. It builds leg and abdominal muscles, it gets the blood pumping and increases heart rate to improve heart health. It's guaranteed to burn calories and release endorphins that makes one happy!
NYCHA developments
Edward Jacobs
Bio
My name is Edward Jacobs and I am the founder of J Vision Roller Sk8, LLC. I am an avid skater with over 25 years of dance roller skating experience. I have skated in over 9 states, attending most of the local and national adult skate events and have participated as a photographer in the Northeast and Eastern Regional Figure Roller Skating Championships. I've taught youth and adult dance roller skating classes at many rinks in New York, and have created a book and video series to teach these skills. Currently I am a retired 30 year retail manager with a passion to teach youth life skills through my Kids Sk8 program (On-beat Skating) workshops.
Donna Gibson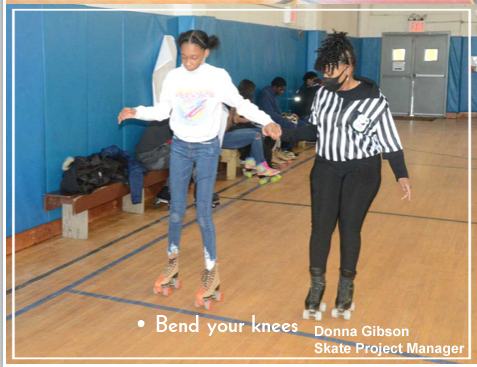 Bio
Hello! My name is Jacquelyn Gibson AKA Donna. My professional experience is in the legal sector for over 25 years. As project manager for this program, I have assisted Edward in providing our services to the community. I was first introduced to skating at the age of 9 by my older sisters. I have been skating for more than 40 years and loving it more than life itself. I find On-Beat Skating to be therapeutic, life learning, and stress relieving. My passion for On-Beat Skating is to teach the youth and other developments. I see being able to share my experience and information to those that are willing to learn—and seeing positive results—as my greatest reward.
Denean Ferguson
Bio
My name is Denean Ferguson and I work and volunteer for the Arverne Church of God and Church of God Christian Academy (K-12) as the Director of Special Projects. I served as the Director for the Church of God Nursery School from 1993-1997, with over 100 children. I've been a member of the congregation since 1987 and I currently serve as a choir member, altar worker, usher, and reader for the ministerial body. Charles, my husband, and I will celebrate 25 years of marriage this year. We have two adult daughters, Vanessa and Carolynn.